If you think crypto-shopping is for experts, you are wrong, and this is why
The complex universe of blockchain technologies is becoming even more and more complicated with new emerging add-ons, including but not limited to the massive number of new cryptocurrencies,
non-fungible tokens (you guessed it right, NFTs!), DeFi exchanges, decentralized autonomous organizations (DAO)
, and so much more. The level of expertise required to make use of – or at least to understand – every single such term and technology is skyrocketing these days. So, "crypto" is becoming an experts-only club? Well, no! In fact, it is the opposite.
First things first, the crypto markets – of any kind – are growing.
Cryptocurrency trading volumes, market capitalizations, number of coins, chains and exchanges, number of NFTs minted, whitepapers, scientific papers, etc.
Everything crypto is growing fast. Please note that this does not mean that your very own crypto investment will yield some profit soon; however, it still translates as more and more people are increasingly becoming into crypto stuff while others come up to non-negligible exposures. Enthusiasm, curiosity, and so-called "greed" are absolute drivers of such growth but are far from being enough to explain the drift.
What's more on that is, for quite a long time, Bitcoin and many other major cryptocurrencies can be used to pay for purchasing a huge variety of goods and services from online stores – like CryptoRefills – or directly through some vendors' websites, or even from physical stores on the streets. Although the latter is still quite rare,
cryptocurrencies' popularity in commerce is clearly increasing in time.
As our latest consumer report revealed, two-thirds of folks who have ever shopped with crypto – or planning to do so in the near future – already agree that cryptocurrencies are indeed a useful means for shopping.
More recent data reveals another interesting fact: the average self-assessed expertise level of people who shop with crypto has decreased since the last year. Throughout 2020, the share of crypto-shoppers who describe themselves as blockchain experts (who picked 5 – strongly agree – and 4 – somewhat agree – over the 5-point Likert scale) were 25.9% of all; whereas in (the first nine months of) 2021, this rate dropped as low as 18.9% among all new crypto-shoppers (i.e., newbies). Our two main takeaways from these rates are: first, some too many newbies began crypto-trading just recently, and second, the crypto-shopping platforms and the technologies implemented are becoming easier to use so that people who just started trading crypto can seamlessly begin shopping with their crypto thanks to the shallower learning curve made available by UI and system developers.
The chart provided shows a detailed breakdown of the above said newbies each month in 2021 (until October) and per the date when they have obtained – bought or earned – their very first cryptocurrency (most likely, but not necessarily Bitcoin). The graph is a stacked bar chart where the total number of new users (i.e., bars) is aligned at 100% each month. On the other hand, the color codes represent the number of new crypto-shoppers who had obtained their first crypto within the associated year given in the legend.
As clearly shown, the share of newbies who obtained their first coins lately, say in 2019, and especially in 2020, are huge and predominant.
When did new crypto-shoppers get their first crypto?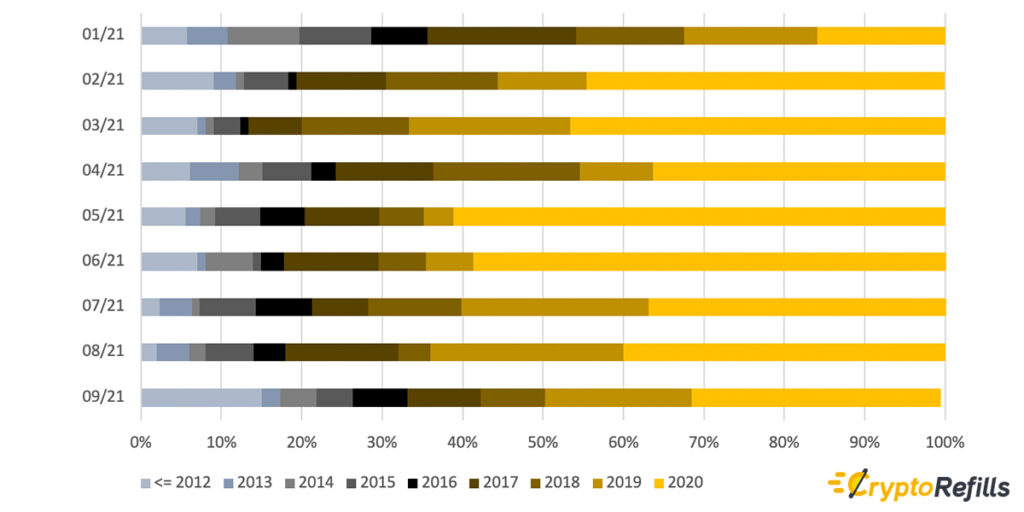 Finally, there is the perception factor. The more people believe that crypto is a modern form of the good old money, the more people will use it occasionally without becoming an expert. El Salvador's move towards declaring Bitcoin as a legal tender strengthens the perception of cryptocurrencies actually being another form of money; however, no other country has followed up so far. Nevertheless, according to an ongoing questionnaire held by CoinMarketCap, Paraguay, Venezuela, and Anguilla are the top-voted candidates, by far, for being the second country (source: coinmarketcap.com/legal-tender-countries). Although having any cryptocurrency as a country's legal tender is not necessary for widespread adoption, it still means a lot for the community. How the perception is evolving is a very deep topic of discussion and will further be elaborated in the upcoming posts.