Crypto-shopping is emerging fast in the developed economies
CrytoRefills Lab's 2022 report provides great insight into the crypto-shopping preferences of consumers across the globe. Based on the information in the report and comparing the current statistics with the previous year's report, it is seen that cryptocurrencies are increasingly being used as a means of payment in developed markets. While the demand from the emerging and least developed markets can be linked to the fact that many people in those countries do not yet have access to traditional financial services, like credit cards, or are facing hyperinflation in their local currencies, so the increasing demand from the more developed markets is worth paying attention to. The chart compares the data from 2021 to 2022 and emphasizes the increase in the share of crypto-consumers in high-income countries, as well as OECD members and states in the European Union, which often are categorized as well-developed.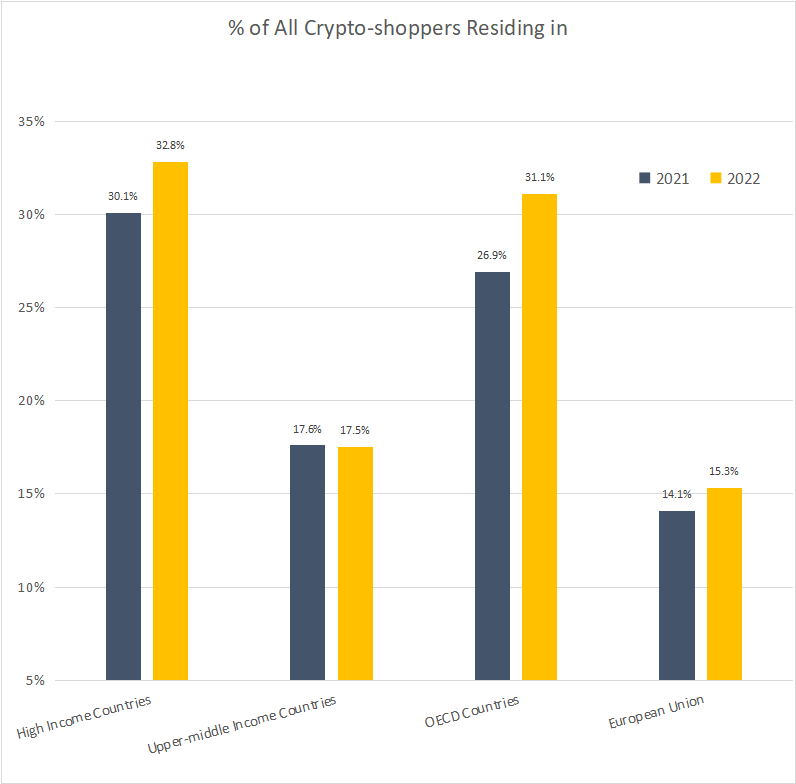 One possible reason for the demand for crypto-shopping in developed markets is the growing awareness and acceptance of cryptocurrency as a legitimate form of payment, especially among the well-educated and tech enthusiast circles. As more businesses and individuals begin to accept cryptocurrency in daily trade, it becomes more convenient for consumers to use their crypto assets for everyday purchases. According to many crypto-consumers from developed economies, the appeal of crypto-shopping may also be driven by the desire to support a decentralized and democratized financial system. By using cryptocurrency for purchases, consumers can support the growth and adoption of this new technology, potentially contributing to a shift away from traditional banking systems and towards more decentralized and transparent alternatives.
Additionally, many consumers with privacy concerns may prefer the anonymity and personal security that comes with using cryptocurrency for online shopping, as it reduces the risk of information leakage to unauthorized third parties, identity theft, and fraud. Moreover, what else contributes to the demand for crypto-shopping in developed markets is, without a doubt, the potential for financial gains. As cryptocurrency prices have fluctuated dramatically over the past few years, some consumers view it as a way to invest and potentially earn profits. By using their cryptocurrency for online shopping, they may be able to both spend and invest their assets simultaneously.
Last but not least, another factor must be the increasing number of immigrants flowing into developed countries, especially in Europe, from conflict-affected zones, such as Ukraine and Russia, suffering from the complicated war situation for over a year. Immigrants may find it convenient (i.e., cheaper and faster) to make remittances from and to their home countries through cryptocurrencies instead of alternative methods offered by banks, payment processors, or remittance services. In some cases, however, transferring crypto may even be the only option available to them.
Finally in the third section of the Cluster Analysis we reanalyze some of the most important data and charts of the Consumer Report with respect to the segments identified in the Cluster Analysis. For example, in the Report we analyzed certain preferences or shopping habits such as use of Lightning Network. While in the first part of the Report we provide the reader with a generic percentage of users that have used "Lightning Network" or a certain percentage of shopper that spend Crypto on a monthly basis or certain cryptocurrency preferences, in the third section of Cluster Analysis we will provide these percentages again but split for each segment. In other words, preferences such as use of Lightning Network or type of products purchased with crypto, or habits such as frequency of spending cryptocurrency, are assessed for each individual segment providing. This is very interesting because a certain preference or habit may be much more prevalent with one or more specific segments, and thus can provide actionable marketing data points.
CryptoRefills is on a mission to enable people all over the world to spend bitcoin and other cryptocurrencies for their everyday needs. With CryptoRefills, people from over 150 countries and territories can top up their mobile credit and buy gift cards with bitcoin and other crypto from the world's largest digital and retail brands. As one of the earliest adopters of the Bitcoin Lightning Network, and as the first company in the world to launch Ethereum layer-2 payments (via Polygon Matic and Arbitrum) and fast finality blockchains (via Avalanche and Fantom) for Ecommerce payments, CryptoRefills is leading the innovation in applied decentralized payments and developing new technologies for the gift card industry.
The Company is also very active in researching and educating on consumer spending of cryptocurrency in retail through its Labs initiative and publishes an annual report on the global use of crypto for purchasing goods and services. CryptoRefills is a fast-growing fintech, headquartered in Amsterdam, and a proud member of the Holland Fintech Association and Blockchain Netherlands Foundation.